A Weekend in New York
A new year calls for new adventures and a fresh start to culinary experiences! I've started off 2017 with a fun weekend getaway to the big apple, New York City. In the four days that I was there, I got to see quite a bit of the city and taste so many wonderful dishes. From the narrower streets of FiDi to the more bougie areas of the Upper East Side, New York had so much to offer the adventurous sightseer and traveling foodie. So grab a cup of tea or coffee and come along with me on the whirlwind of food that was this weekend!
Upon landing, the weekend was off to a great start as I made my way to Urbanspace Vanderbilt for lunch. Urbanspace is a large, two tiered food hall with over 20 eateries to select from. As soon as you enter the building is filled with energy, great aromas, and noticeable but comforting white noise of people all around you. I decided to start my trip with an amazing sandwich from Sigmund's Pretzels. I chose the Roasted Turkey sandwich with Smoked Gouda & crisp apples; it was beyond satisfy and I wish they had a location in Chicago so I could go back ASAP! My travel buddies all pick something different to try from Mimi's Hummus to Bangkok Bar and Takumi Taco [which looked so good that I went later in the trip]. Check out pictures from our lunch...
I think that Urbanspace is exactly what every city needs. If only Chicago had one of these in the loop area, I think it'd make breakfasts and quick work lunches infinitley better.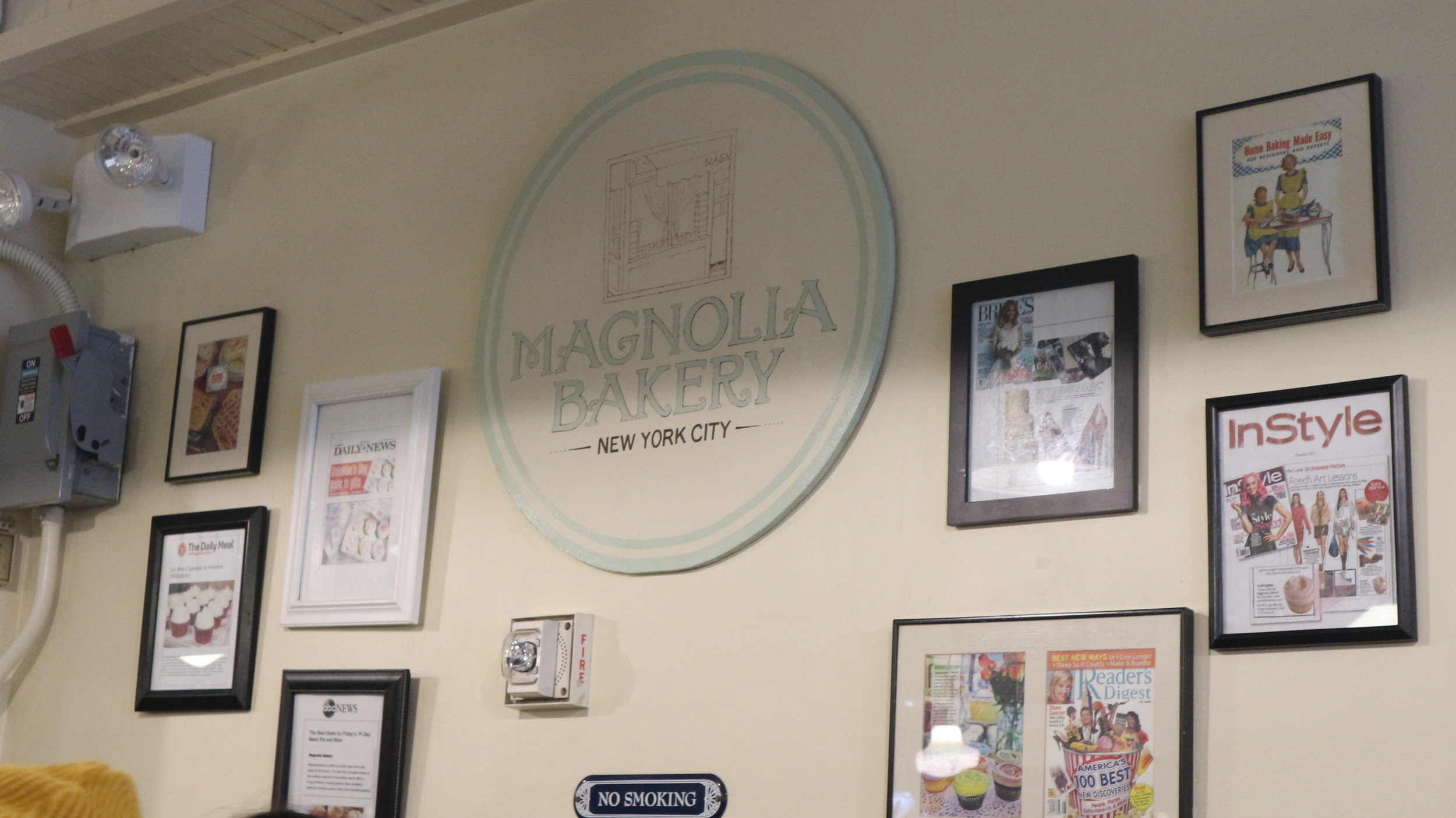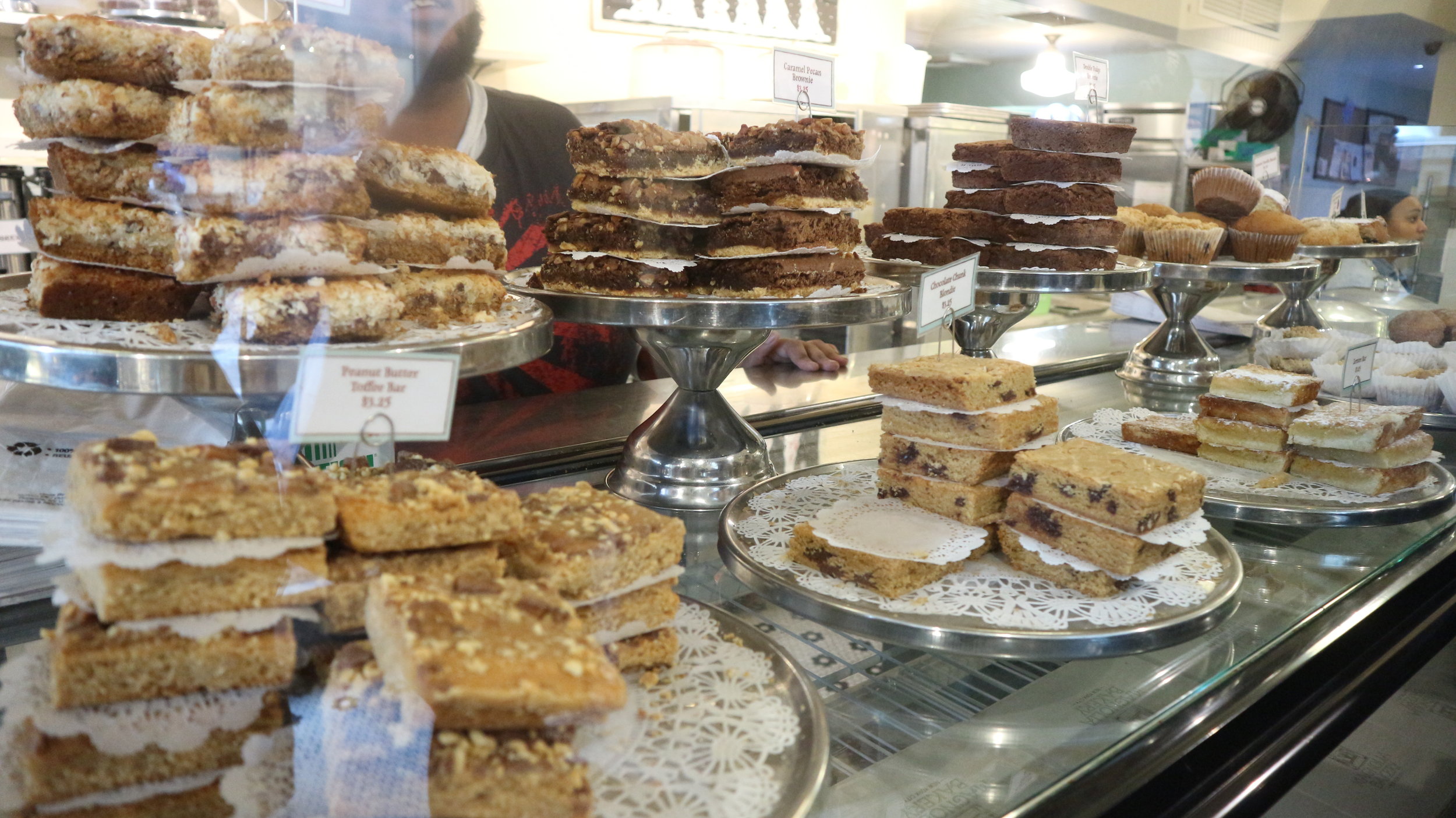 While most people would be full after eating such a lunch, we couldn't resist stopping at Magnolia Bakery as we walked back to our hotel. Let me tell you...it lived up to everything I remembered from the last time I had one of their cupcakes. I had the special, a Magic cupcake, tried the vanilla with sprinkles and the magic bar. The Magic cupcake, my personal favorite, is made with a vanilla cupcake, rich chocolate, caramel, and coconut...in a word: paradise. That being said, all of them were out of this world! For all the sweettooths reading you can get their cupcakes in New York, LA, and Chicago!! I won't be offended in the slightest if you decide to pause reading and grab yourself one right now.
Throughout the rest of our first day we went to The Plaza, Time Square, Madison Square Park, and Rockefeller Center. Seeing quite a bit in such a short amount of time, we decided to kick up our feet at 230 5th for drinks at the "igloo bar". This was a fun experience as we got to take in a new perspective of the city from the rooftop with a great view of the Empire State Building. Afterwards, we headed over to The Cellar at Beecher's for a quick dinner. I sampled the World's Best Mac and Cheese along with their Cheesemonger's three cheese plate. I don't know if I would say it was the best mac and cheese I have ever had, but it was pretty high up there!
The next few days flew by rapidly as we walked, talked, and ate our way through New York City. There is almost too much to recount, but I'll give you the highlights on places we went, foods we tried, and what we saw. My favorite moments included a nice morning walk through Central Park and a brief walk around the Metropolitan Museum of Art. I also enjoyed checking out the One World Trade Center, Chelsea Market, Washington Square Park, and walking up the Brooklyn Bridge.
On our third day in the city, we were hit with an unfortunate blizzard of sorts. However, when life gives you snow storms...find cool places to hangout in Brooklyn! We took a free tour at the Brooklyn Brewery which was possibly the best (& most efficient) brewery tour I have been on. The atmosphere was very relaxed & noticeably a hipster's refuge - but we didn't mind. From the brewery we made our way around the block to Brooklyn Bowl which was as you can assume a bowling alley. This wasn't your regular bowling alley though; no, they had two full bars and live music which made it a great spot to hide away from the snow with the company of good friends.
Last, but most definitely not least, let's talk about the NYC eats! From Ess-a-bagel to Momofuku Noodle Bar, there is a cuisine type and restaurant for everyone. Some other great spots we went to include: The Meatball Shop, Black Tap, Martha's Country Bakery, Levain, Ample Hills, and Momofuku Milk Bar. As we all know, a picture is worth a thousand words, so I'll let these pictures (and video) do the talking for me.
There were so many tasty and amazing things to try around the city. Out of everywhere we went, everything I mentioned above are places I highly recommend and hope to go eat at again. I cannot wait to go back, try more restaurants and look around at more breathtaking sights! Please let me know in the comments below your favorite parts of the city as well as recommendations for things to do in New York.