Weekend in CINcity
Cincinnati, the Queen's city and home of the Cincinnati Reds, is not typically a popular weekend get away trip. However, there is so much this city offers with fun things to do and great spots to eat at. Cincinnati is known for it historic architecture, as the 3rd largest city in Ohio, and of course Cincinnati Chilli.
As a Cleveland born Buckeye, I had never made my way downstate to Cincy since my family moved out of state while I was young. So I was ready to go back to my birth state and enjoy a weekend exploring Cincinnati. Keep reading to see where I went, what I did, and some great spots to eat at!
Downtown Cincinnati
Upon arriving in the city of Cincinnati, it was 2pm (so for my stomach what would be 1pm back home), and needless to say I was mildly hangry. So our first stop for the weekend was Nada. This modern Mexican restaurant sits in the center of the urban core of the city. From the cantina style to the outdoor seating and festive decor, Nada is the place to go if you want to try something new, chic, and flavourful.
Another great spot to hit up during your stay in Cincy, is Maplewood Kitchen + Bar. We went for brunch Saturday morning, and left very satisfied. I can say that they were killing the game from their fresh avocado toast to the lemon ricotta pancakes (my personal favourite). Tip: Maplewood does not take reservations, so if you want to go to weekend brunch, make sure to get there early!
My personal favourite spot visited in the downtown area was Hello Honey. For any sweet tooth or ice cream lover reading this post, Hello Honey is a MUST GO stop for your trip. They have a rotating list of ice creams offered throughout the year, so be prepared to go in and try so samples to find your desired taste. Some of there flavours are very unique such as the Earl Grey Green Tea, but they are out of this world. I had the Brown Butter Caramel with a toasted marshmallow on top and it was amazing!!
Great American Ball Park
During my weekend in the city I spent the least amount of my time in the Ball Park area, but I can say that it is a pretty fun place to go if you A) enjoy baseball or B) enjoy the hyped energy of sports fan congregating in local bars.
The weekend we went, the Cincinnati Reds played against the Chicago Cubs (sorry if it's too soon for you Cincy folk to relive the loss....Go Cubs!) so the area of the ball park was teaming with energy. Some of the places we stopped by included Howl at the Moon, Tin Roof, and Holy Grail. If you enjoy live music and dueling pianos, Howl at the Moon is the place for you. It is not only a live music bar, but at certain times of the night you can also treat yourself to a game of bowling at on of their many lanes. Tin Roof is the bar you go to if you like live country music, but for those who know me well this was not my scene. Just like Goldie locks - who got it right the third time - we stumbled upon Holy Grail Tavern. Playing a selection of throwbacks as well as recent hip-hop favourites this atmosphere was relaxed and the perfect place for us to close out the night.
Over-the-Rhine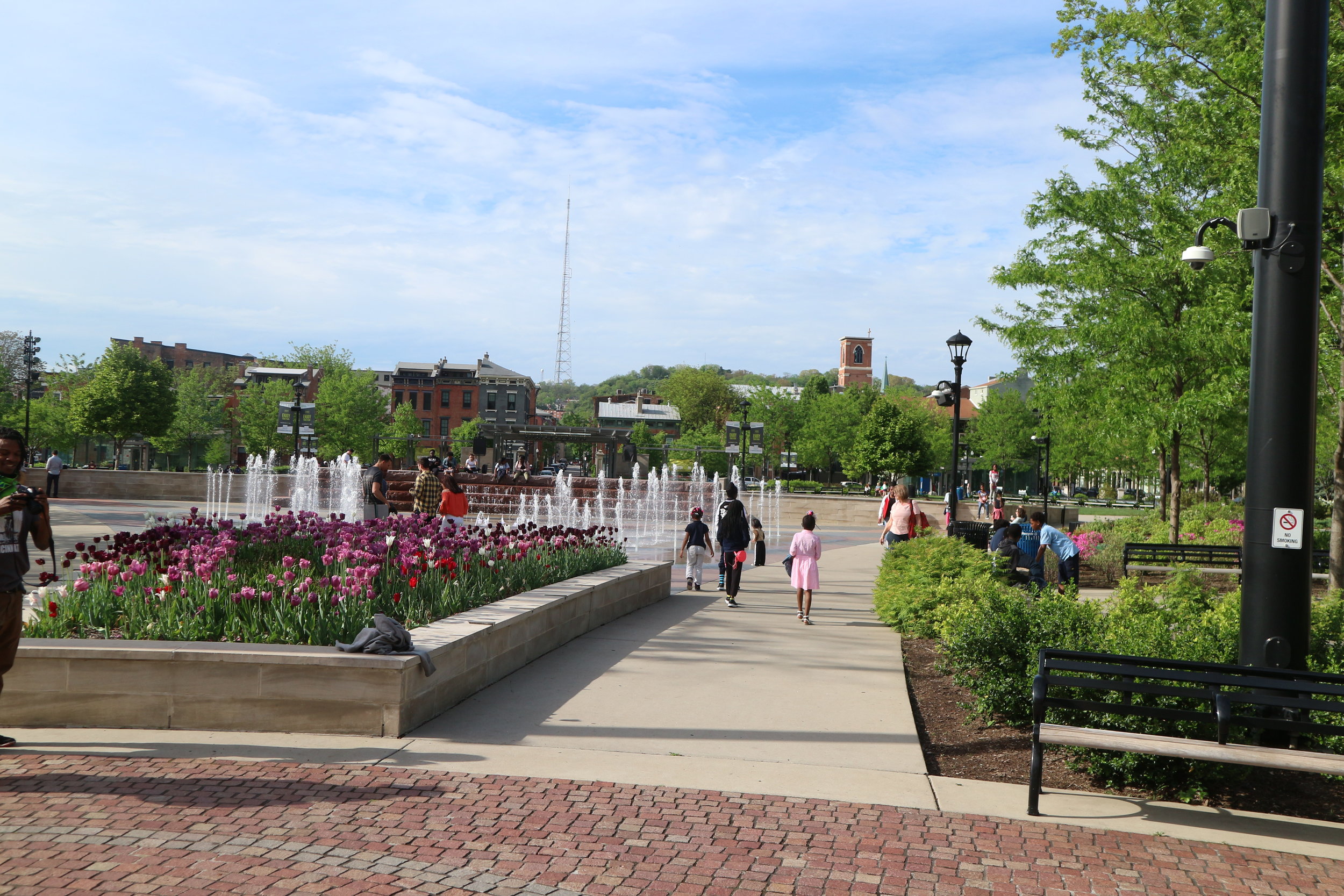 Strolling over to the OTR area, we took a walk through Washington Park. Lively with music and people, it seemed like a perfect place to read a book or relax with friends. Once we got to Over-the-Rhine we got to explore boutiques, quaint restaurants and bars, as well as stumble of some cool street art.
The restaurant that I was looking forward to trying the most in Cincinnati was Salazar. This new american restaurant has top tier food art game and their refined as well as changing menu items taste as good as they looks. Fun fact, I tried brussel sprouts for the first time at Salazar and they were actually pretty great. Didn't know what I was missing!
After an amazing dinner at Salazar, we decided to walk around OTR and found cool places like 16-Bit Bar + Arcade and Holtman's Donuts. Although it was about 6 pm on a chilly Friday evening, there were people everywhere you turned, enjoying themselves at candle lit dinners, themed bars, and simply walking all around. I'd say OTR is the place where you can find more of Cincinnati's young adults as well as fun hangouts.
A couple honorable mentions from this weekend trip include: Greater's Ice Cream and Sleepy Bee Cafe. You can find Greater's nationally, but I had never tried it till visiting Cincy and it's a top recommended spot for the city. As for Sleepy Bee, this great dining spot is actually located in the Oakley area, but it is worth the ~13 min trip out of the downtown area.
Cincinnati was to me a surprisingly exciting city! I can't wait to return again one day to try so much more of what it has to offer. If you have been to the city, what were your favourite places & activities? Let me know in the comments below!